While we were in Paris, we did a lot of long term planning (i.e. "Let's go to Kenya in June"), but we neglected to figure out where we were going in the short term — as in immediately.  So we drove out of Paris in a rented car, heading south, knowing nothing more than we would hunker down at our friends' house in Lyon for a night and figure things out.  We knew that we wanted to see the South of France, then make our way down to Italy but that was about it.  What we ended up with was an incredible week vagabonding from one set of friends' parents to another.  We were like college kids on a Eurorail Pass again, except this time we were going around in a rented Peugot along with a ten year-old and a thirteen year-old.
Back in Paris, our friend Pierre told us we should go to Moustiers-St. Marie, nestled in the foothills where the Alps become Provence and loaded with members of his family.  His parents Claude and Tonia greeted us as if we were their own children, taking us to the best restaurant in the village, and even allowing Franny to use their internet the next day for her Skype French lesson.  They seemed genuinely thrilled to have us — just because their son shot them an email and said these American nomads are going to be rolling through.  It was like having our own French parents, but without all the baggage that comes with ones' actual parents.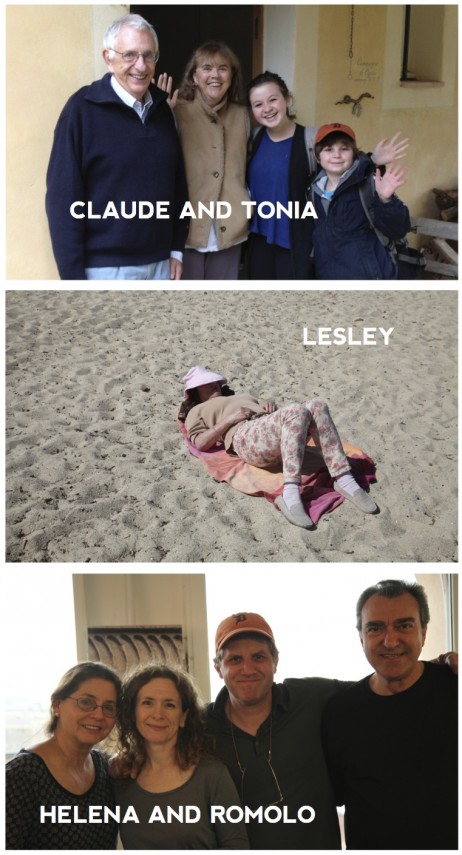 Wait, it gets even better.  So we're rolling out of Moustiers still without a plan and we suddenly get an email from our friend Juliette's mother Lesley who says we should come and stay with her in her village called Seillans.  We checked our Google maps and saw Seillans was just an hour and a half away and wrote Lesley back saying we'd see her at lunch.  She quickly wrote us back and said "No!  Too soon!  I'm out on a hike!"
After a side-trip to Cannes, we rolled into Seillans, one of earth's charming treasures, and more-or-less took over Lesley's house for a few days.  And she loved it!  Our kids became like her grandkids.  She brought us croissants every morning, Franny and Finn kicked the soccer ball around her backyard, and we all spent a gorgeous afternoon in St. Tropez together, where we all rested on the beach.  She even whipped up an unforgettable dinner party where her boyfriend Jay, an ex-pat Madison Avenue ad man, wrote an original song about our journey (see video below).Camped out in Lesley's guest room, we finally figured out where we were going to travel next — Rome!  Because our friend Anna's parents wrote us on Facebook and said we could stay at the dormitory in their amazing 800 year old architecture school in the best neighborhood in the city.  "We'll see you tomorrow!" we replied.  Hey, Paris is fine, but Parents of Friends are fantastic!  After nine and a half month of full-time parenting, there was something very nice about feeling like the kids again.