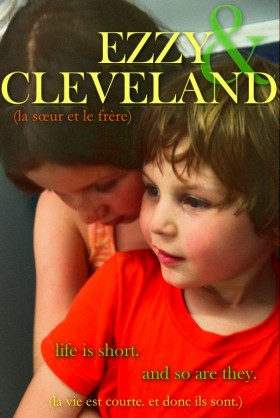 In 2009, shortly after the death of Mark's father, our family took a trip to Europe for six weeks.  Before this, we had never spent more than three weeks on holiday — and Mark worried that he might not be able to stand such a long time with idle hands.  So, as a lark, together we decided to make a short film as we went that told the story of a sister and a brother who had lost their parents and were traveling on their own through Europe.  This little labor of love was called "Ezzy and Cleveland."
As we wandered from London to Paris to Venice and Madrid, we somehow got the kids to call each other by different names and enact a largely improvised story about the bond between a then nine year-old sister and her six year-old brother.  We shot way too much without editing a thing and the footage sat on hard drives in our office for the better part of two years.  Only when our talented collaborator (and cousin) Abe Forman-Greenwald started sifting through the footage did the little movie come to life.  Abe served as editor, producer and all-around facilitator to turn our family project into something comprehensible.  Since completion, the 30-minute film has played in a handful of family film festivals around the world, in places as far away as Kenya and Australia.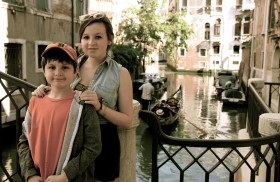 Below is a six-minute clip of the section in Venice starring pint-sized Franny and Finn as Ezzy and Cleveland — on their adventure to discover the world.  There is no question that our time spent alone together as a family during these six weeks was a great and important inspiration for what would eventually become our incredible Year To Think.  Returning to Venice and living in an apartment for a week as Venetians with the same kids (now a few years older and many inches taller) brought back indelible memories of our first time here together.