Okay, we've talked about Great Cities To Live In.  But let's face it, you can't live everywhere.  Some places you just want to visit.  Here are fifteen incredible places we recommend seeing before you're six feet under (and a handful of places that, in our opinion, you can meet your maker without laying eyes upon).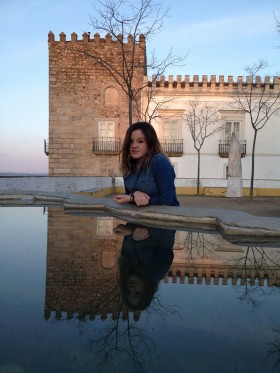 UNMISSABLE
15.  EVORA, PORTUGAL  We visited this ancient walled city in the off-season and it felt like we had the whole place to ourselves.  It's a two hour drive inland from Lisbon and worth the trip.  Walk along the narrow streets winding up to amazing churches where you find boundless views across the vast green countryside.  Go to the restaurant called Botequim da Mouraria where you can only sit at the counter and trust that whatever the owner prepares for you is going to be absolutely delicious.
14.  BEIJING, CHINA  Beijing was far from our favorite destination on the trip, but it is undeniably a must see.  Here you will find the Forbidden City, the Great Wall of China, Tiannemen Square, not to mention a world class state-of-the-art subway system built for the 2008 Olympics.  Beijing is also home to our favorite meal on the whole trip:  Peking Duck at the world famous Da Dong restaurant.  We'd fly back tomorrow just for the crispy duck skin dipped in sugar.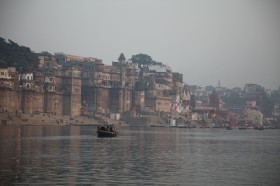 13.  VARANASI, INDIA  We would never want to live in Banaras, as the locals call this holiest city in the Hindu religion.  But are we glad we went there?  Without question.  This was the India of our imaginations.  Our sunrise boat ride along the Ganges and all the sacred rituals we witnessed will be embedded in our memories forever.
12.  STOCKHOLM, SWEDEN  Why do people only talk about how beautiful the people are in Sweden?  This city is absolutely gorgeous.  Along with Sydney, it is one of the great "water cities" of the world.  Swedish meatballs are world famous for a reason, the people here are kind and Viking tall, and if it not for the seven months of winter, Stockholm would have easily made our list of most livable cities on earth.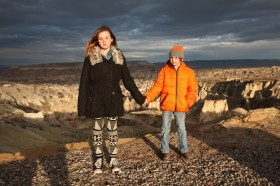 11.  GOREME, TURKEY  In the heart of Cappadocia in central Turkey, Goreme is home to remarkable rock formations called Fairy Chimneys and your hotel will literally be built into the naturally formed rocks.  Eat at the Topdeck Cave restaurant, take the hot air balloon ride, and send us a note thanking us for the recommendation.
10.  DEAUVILLE, FRANCE  About an hour east of Omaha Beach is this picturesque resort city referred to as Paris' 21st arrondissement because it's the perfect weekend distance from the French capital.  While not as well known as its southern cousins on the Côte d'Azur, Deauville is a beautiful seaside escape for when you just can't take any more of the ridiculous splendor of Parisian life.
9.  PHNOM PENH, CAMBODIA  Fascinating, complex, and quite beautiful, this capital city is often overlooked as tourists flock to Siem Reap to see Angkor Wat temple.  The S-21 Prison Museum must be seen to fully understand the horrors of Cambodia's recent history.  It was just outside Phnom Penh in Oudong where we met the unforgettable Small Guides.  If you go to Cambodia and encounter any of these young men, please send them our love.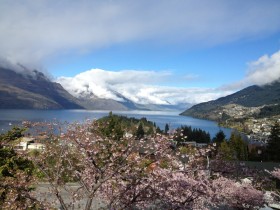 8.  QUEENSTOWN, NEW ZEALAND  The most beautiful place on the planet in our opinion — high praise indeed, but unquestionably deserved.  There's a reason Peter Jackson used it as the setting for so much of Lord of the Rings.  There's also hiking, boating, biking, and skiing.  Don't forget to check out neighboring Arrowtown which is a smaller and more quaint but no less gorgeous.
7.  THEKKADY, INDIA  To get to this Spice Village in the hills of Kerala in Southern India, you have to snake along some of the most treacherous roads we've ever seen.  But it's more than worth the journey.  Learn where all the world's most unique spices come from and eat at the restaurant called Fifty Mile Diet, where all food comes from within fifty miles of the kitchen.  This may be the best square fifty miles for dining anywhere on the planet (and they even serve beef, a rarity for India).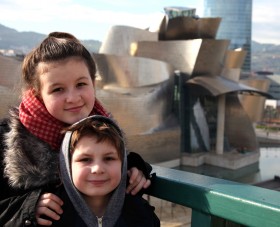 6.  BILBAO, SPAIN  The best kept non-secret on the planet.  Since Gehry's iconic Guggenheim Museum first rose along the riverside fifteen years ago, the city has undergone an astonishing renaissance that makes it a world-class destination.  This Basque capital must be added to your list of great Spanish cities — along with Barcelona, Madrid, and Seville.  P.S.  Eat at Artxanda and order the fried peppers.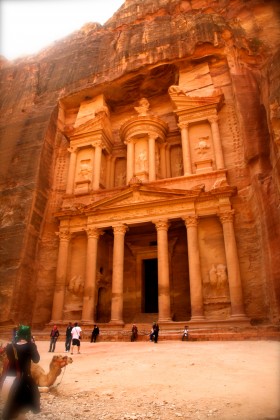 5.  PETRA, JORDAN  Of all the "Wonders Of The World" we visited (including Machu Picchu, the Great Wall of China, the Colosseum, Angkor Wat), Petra was the most "wonderful."  You can travel down from Amman or cross the border from southern Israel to discover this remarkably preserved ancient city that must hold a high place on your bucket list.
4.  MERIBEL, FRANCE  For a family that only skied a couple times in Big Bear, California, the French Alps were an absolute revelation.  Franny, Finn, and Mark all gained great confidence in their four days on the slopes of Altiport (perfect for beginners and Black Diamond experts alike).  Eat at Alti 16 where the owner Jean-Marie will make you the best raclettte we've ever tasted, then head back out to the slopes.  (Special thanks to our friends Isabel and Jean-Michel for introducing us to this incredible place — see you next year!)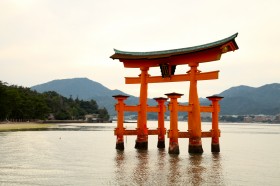 3.  HIROSHIMA, JAPAN
  From the horrors of war comes the world's greatest monument to peace. 
Hiroshima
is a now beautiful and inviting city where you can find Okonomiyaki, a unique savory pancake that was one of our favorite foods of the trip.  It's just a short tram ride out to Miyajima where the orange temple gates rising from the water make it Japan's must-see shrine.
.
2.  SHELA, KENYA  This quiet beach town on the coast of Kenya is just a ten minute walk from the larger city of Lamu — and an hour and a half flight on a small propeller plane from Nairobi.  If you've got the stomach for the flight, you'll discover one of the best kept secrets on the planet.  Beautiful beaches, warm water, ridiculously delicious local seafood, and some of the friendliest people we've come to know (yes, we mean you Ngala).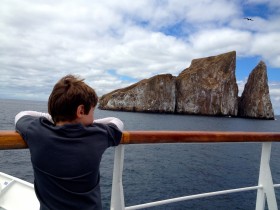 1.  THE GALAPAGOS, ECUADOR  The perfect intersection of vacation and education — or as we like to call it "vaceducation" (copyright pending, other suggestions welcome).  The Galapagos are seriously a once in a lifetime experience.  Contact a local travel agent in Quito to get the most bang for your buck (only book through an American company if you want to pay double), take a cabin on a ship called the M/V Santa Cruz (stay away from the overpriced National Geographic ship which literally uses the exact same guides), snorkel among the reefs, and walk within inches of wildlife you'll see nowhere else on the planet.  This is where our year began — and in many ways we saved the best for first.
MISSABLE
5.  ROBE, AUSTRALIA  This is where the good people of Adelaide go for holiday.  Adelaide is a nice enough place with one of the world's great indoor markets — but don't make the trek out to Robe.  You'll immediately want to turn tail and drive full speed back to Adelaide, which is what we did.
4.  EILAT, ISRAEL  At the southern tip of Israel along the Red Sea, you'll find this scuzzy vacation destination where we were so grossed out by the man spraying Windex over all the ingredients of the falafel case, we insisted they take keep our money if it meant we didn't have to take the sandwich we ordered.  Once again, we ran.  There's only one good reason to go to Eilat:  It's where you walk across the border to Jordan to visit Petra.  But if you're going to Petra, spend the night in Aquaba on the Jordanian side for a little taste of Arabic culture.
3.  XIAN, CHINA  People come from all over the world to see the Terra Cotta Warriors.  But is it really worth the eleven hour train ride from Beijing?  Unfortunately, not at all.  See the Terra Cotta Warriors when they come to a museum near you and save yourself the hassle.  If you do go to Xian however, don't forget to take a bike ride atop the wall surrounding the old city and definitely check out the Muslim Quarter (but air quality could limit your "outside time" drastically).
2.  GENEVA, SWITZERLAND  We arrived in Geneva at nine o'clock on a Sunday night and it was a ghost town.  We're talking Swiss tumbleweed.  There is absolutely nothing to do in this city where the greatest attraction is a spout of water that shoots ten meters high.  And to add insult to injury, it's one of the most expensive cities in the world.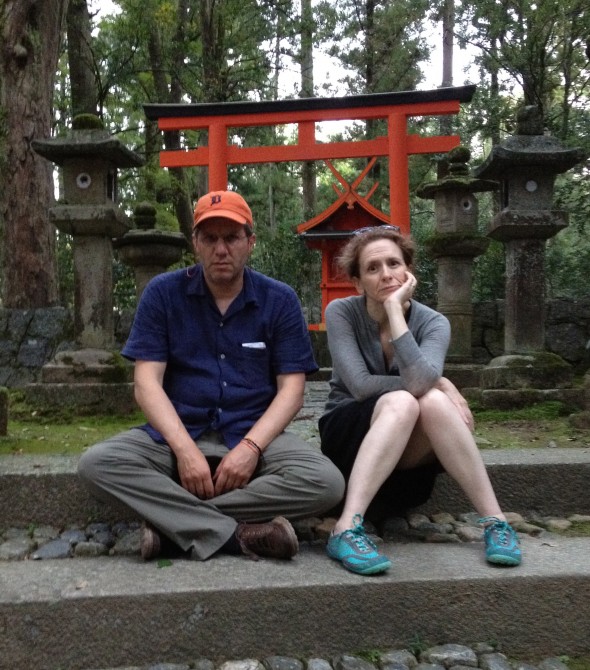 1.  NARA, JAPAN  People love Nara so feel free to disagree.  But the one night we spent there was the low-point of our trip.  The city is known for its wild deer roaming freely through the parks, and its gorgeous temples.  When we visited the deer were feral and tick-infested, chasing innocent passersby into traffic — and the allegedly gorgeous temples were covered with scaffolding leaving everything to the imagination.  The good thing about low-points, however, is that it makes the high points that much higher.  We'll always have the Galapagos.